Fantastic Teaching Packs to save you time!
With all the stresses of the new term any ideas to reduce teachers' workload are very welcome. Various sites have sprung up over the last few years with printable resources for primary schools which are ideal to dip into when you need display resources.
One we've found that we really like is Teaching Packs produced by Mark and Helen Warner of Teaching Ideas fame. At the time of writing they have produced an incredible thirty-four superb topic packs with 5992 resources on a wide variety of subjects, but more are being added all the time. Each pack not only includes brilliant display materials such as banners and posters, but also additional resources such as e-books, games, worksheets, templates, activity cards and more. We like the way details of each pack are listed on their website so you can see what you're getting.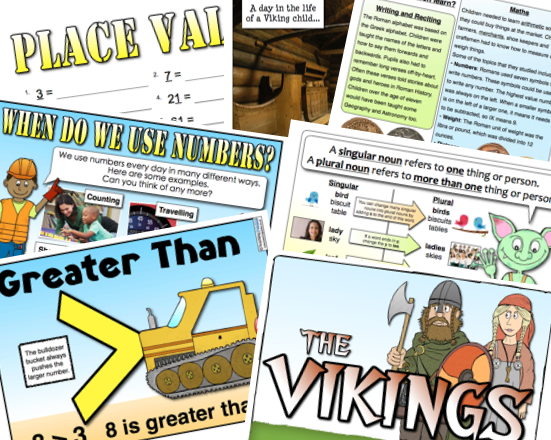 Samples from Romans, Vikings, Number and Grammar Teaching Packs
Pack subjects include not only favourite topics such as Romans, Pirates, Egyptians and Christmas but also a fabulous collection of literacy and numeracy printables so you can always have something fresh to display relevant to current work. With the help of a laminator you'll be able to reuse them in subsequent years. The graphics are excellent but don't just take our word for it why not request a Preview Pack of over 100 free resources with samples from all the teaching packs?
All in all the £15.00 per year subscription is great value when you consider the time saved in producing your own! Alternatively if you join as a school you and fellow colleagues will all benefit through the school account and either way you'll also get to access new packs as they are added.