A Great Game for Learning French
We've been looking at the award-winning KLOO game called 'Race to Paris' which is designed for both beginners and pre-intermediate learners of French and we are very impressed. We think it is a very clever game that would be a valuable learning addition for language classrooms or for home use.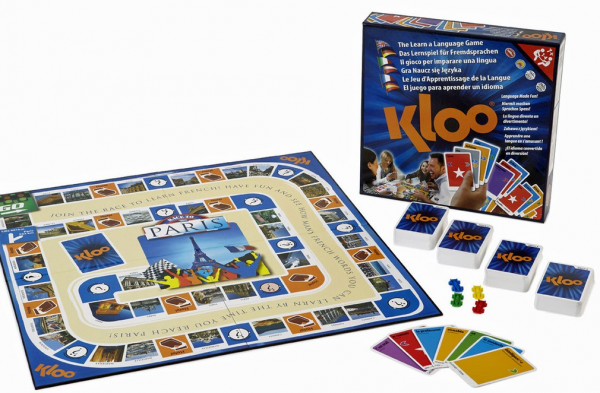 The game is designed for 1-4 players from the age of 7 upwards however we think the game is ideal for children from around age 9 upwards. This is because we felt that the content of the sentences is more suited to older children and because of possible limitations with phonetic reading skills of younger children attempting pronunciation.
The basic game consists of a high quality base board and four decks of playing card sized cards which are based around themes of people, eating and drinking, places, clothing and everyday objects. The aim is to work through one deck at a time until the knowledge of the vocabulary on the cards is learnt. Each deck has all the grammatical elements to make sentences or phrases depending on the cards dealt. The clever thing is that by following simple colour sequences, complete beginners are able to make grammatical sentences. It is preferable not to mix the decks otherwise the sentences may be rather strange.
We really like the versatility of this resource because users can use the cards in various games where you don't necessarily need to use the KLOO board. It's great for improving vocabulary and sentence construction. In the 'Race for Paris' game it isn't always possible to make sentences from the cards dealt but players can score by constructing phrases. We particularly like the single player game called 'Under Starters Orders' which is brilliant for learning how to translate. Even if you have no previous knowledge of French it is possible to translate a sentence using the clues on the other cards in the same pack for reference. Here are some sentences which were translated by someone with no previous knowledge of French.
Elles ont la pendule et le chapeau jaune. They have the clock and the yellow hat.
Excellent! Ils choisissent le manteau orange. Excellent! They choose the orange coat.
Ils portent la serviette ainsi que la jupe. They carry the towel as well as the skirt.
The author of KLOO claims that you can learn hundreds of French words and make millions of sentences with the cards. Whilst we recognise that some of the sentences may be unusual we think the exercise is valid because of the valuable vocabulary and experience in learning how sentences are constructed. Sentences can also be used as a talking point. For instance a teacher could ask children to suggest a more likely noun than skirt in the third sentence.
We like the option of being able to freely download printable French card extensions for those wanting to practice future and past tenses. We also appreciated the fact there are online YouTube videos to help with understanding of how the games are played as the printed instructions aren't the easiest to understand. We really liked KLOO and recommend you take a look at the videos yourself to see how easy it is to make a grammatical sentence.
Disclaimer: This product was received for free, but this was not a paid review.