It's Chinese New Year on 19 Feb 2015
It's Chinese New Year on 19 February 2015 when it will be the Year of the Goat. The number of people looking at our Chinese New Year resources is starting to really ramp up.
We have been asked why we are calling the New Year the Year of the Goat when some people are calling it the Year of the Sheep. The fact is the Chinese word does not distinguish between goat or sheep or indicate the gender of the animal. So whether its called the Year of the Goat, Sheep or Ram, they are all valid!
For this year we have updated our always popular Chinese New Year Zodiac story as well as adding some new craft activities. For starters to celebrate the Year of the Goat use our instructions and template to make a simple goat mobile.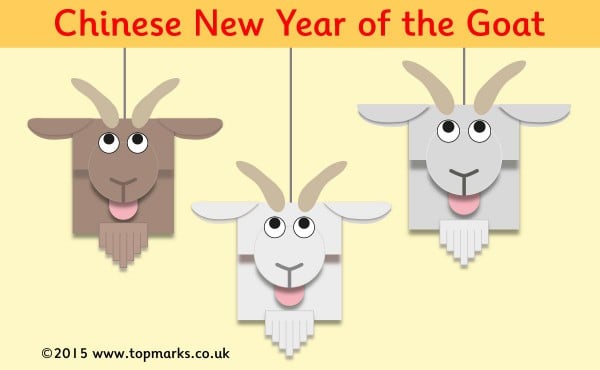 We have also added another new Chinese New Year crafting activity to make firecracker decorations. Ornamental firecrackers are hung in bunches on doors as a symbol of good luck as the noise of real firecrackers is believed to keep evil spirits away.
How about getting your class to  make firecracker decorations? They are simple and fun to make and look attractive as a classroom display.