Shape Monsters - new learning game
Fantastic for Early Years Foundation Stage (EYFS) learners, Topmarks is excited to announce a new learning game. Helping young children recognise basic shapes, the Shape Monsters are here!
This brand-new interactive game, called Shape Monsters, is ideal for ages 2-5 to become familiar with and practised in sorting the four basic 2D shapes of circle, square, rectangle and triangle.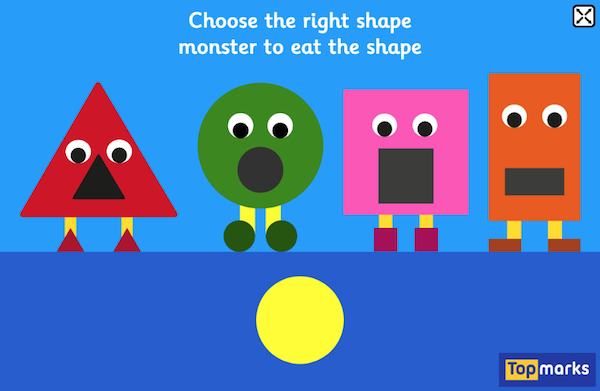 Each of the fun monsters can only 'eat' the shape that matches its own body shape, and audible reinforcements back up the child's correct choices.
The Shape Monsters game lends itself well for use on an interactive whiteboard, and is also tablet-friendly, like all Topmarks' own games, for every age group.
The characters have been designed to appear in random positions for each game, and the chosen shapes appear randomly too, avoiding repetition. This makes it fully re-playable!
Click now to play Shape Monsters, and don't forget to let us know how you find it - why not share your experiences on our social media channels? Find us on Facebook and Twitter, @topmarksed